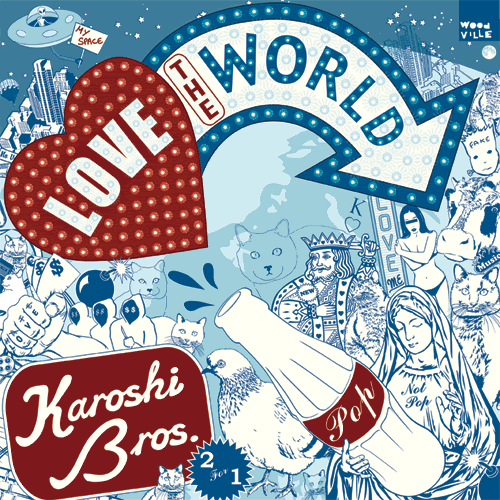 Love The World is infectious to say the least – think Seenlufts Manilla produced by Richard X (those fat Numan/League synths) and you're getting close, says – Jerry Bouthier (Kitsune / Boombox / M8)
Love The World is a hypnotically funky, synth laden, speaker drenching, dance floor banger. The Ingo Star Cruiser remix is already receiving boundless superlatives for it's jackin baselines, pummelling electro funk and dance floor swagger by man of the moment Erol Alkan. These two stuttered and filtered good-time thumpers are destined for night-time hot spots across the land.
Sam and Dan Burt are the genre mesh heads behind Karoshi Bros, who started their career in a rock outfit with Lucas from Maximo Park. However, finding themselves gravitating to an eclectic sound of triphop and electronic music the brothers broke away, creating tracks where the lyrics are as important as the beats. 'Myspace is yours, Your space is mine, We're all selling cheap, We're the latest freaks, A desperate peeping show, On the video'
Originally titled Fuck The World was meant as a protest song born out of frustration at label bosses demanding The Karoshi Bros write tracks for Backstreet Boys. What they did instead was write about all the filth and shit in life, 'We've both mellowed a bit recently hence, Love The World'
Using vocals of people who have NEVER sung before keeps each track completely unique, the Love The World singer was found via Myspace in China. Keep your ears open for the follow up track with vocals laid down by a French law student singing about a drag queen.

A planned series of warehouse parties and gigs will showcase the gritty, intensity of the group live. Fronted by two alternatives, the first of which is POP, a riotous cross between Iggy Pop and Keith Flint, who in his spare time enjoys face diving off balconies, reconstructive surgery and rupturing shoulders.
The latter, JJ is your dark and twisted early Gwen Stefani, 'we're loving this collaborative vibe where people can jump in and out creating things with us, all boundaries have gone.
Love The World is just the start of what's to come from Yorkshire's answer to Justice.Download the EP from all good stores and you'll find the limited vinyl in all good indie shops – or you get the 7″ and everything else including free downloads and Ts from our shop.
Watch the video of Love The World
https://paperecordings.com/wp-content/uploads/2018/12/paper-logo-small.png
0
0
Pete
https://paperecordings.com/wp-content/uploads/2018/12/paper-logo-small.png
Pete
2008-08-04 15:28:03
2008-08-04 15:28:03
Love The World by Karoshi Bros